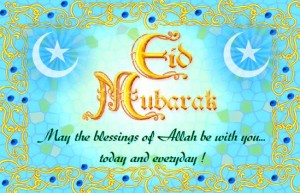 The 1st of Dhul Hijjah 1434 AH started on Sunday October 6th, 2013. So, Eid Al Adha will be on Tuesday October 15, 2013 (10th Dhul Hijjah 1434 AH.
Sarnia Muslim Association has the pleasure to announce that Eid Al Adha will be on Tuesday Oct. 15, 2013.
Takbeer will start at 8:30 am.
Prayer will start at 9:00 am.
Please bring some food or sweet to celebrate the Eid and share the food with the rest of the community members.
May this Eid and every Eid brings us strength and unity.
Eid Mubarak to everyone.
Najah Shuqair
General Secretary
Sarnia Muslim Association